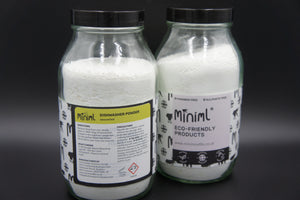 Miniml Dishwasher Powder Jar / Refill 500g
Regular price
£3.50
£0.00
Unit price
per
First purchase you will have to purchase the jar, then return the jar to swap for another full jar of powder. 
DESCRIPTION

Grease and limescale don't stand a chance with our non-toxic Dishwasher Powder. Guaranteed to leave your spoons sparkling and your dishes dazzling.
Amazing results even at low temperatures. What's not to love? 

PRODUCT FEATURES
Exceptional washing results, even at low temperatures.
Inhibits limescale formation.

Does not form white deposits.
Low foaming.

Ideal for domestic or commercial use.
Eco-Friendly and Readily Biodegradable.
Vegan, Cruelty-Free and British Made.
Free from: VOC's, chlorine bleaches, solvents, lanoline, sulphates, parabens and phosphates.
Safe for septic tanks if used as directed.
Effective in both hard and soft water.
Bulk refills collected, cleaned and refilled.
Made in Yorkshire, UK
INSTRUCTIONS FOR USE
Remove food from your dishes and place a scoop (10 grams) of Dishwasher Powder in the machine's dispenser.
For the perfect finish add Miniml Rinse Aid to your rinse aid reservoir.
AREAS OF USAGE

All dishwashers
CIP Cleaners
INGREDIENTS
5-10% Oxygen Based Bleaching Agents*, <5% Non-Ionic Surfactants. *Plant or mineral origin.  For a detailed what's what, go to miniml's ingredients page.
---
Share this Product
---