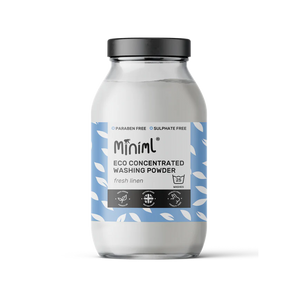 Miniml Eco Concentrated Washing Powder 500g Jar / Refill 500g
Regular price
£3.80
£0.00
Unit price
per
For home delivery you will need to purchase concentrated washing powder with jar for first order or second if you wish to have a second jar for rotational easiness.
Then the empty jar has to be placed outside for collection when you place a new delivery as a refill. 
Look no further, Minimls Non-Bio Washing Powder is worth taking your clothes off for. It fights stains and odours by using the power of nature to keep your clothes as clean as your conscience.
Amazing results even at low temperatures. What's not to love? 
How it works: 
Your first order you purchase the jar, use it all up then bring it back to be swapped for a filled one at the refill price. Simples!
✔️ Highly concentrated - 1kg = 50 washes
✔️ Exceptional washing results, even at low temperatures.
✔️ Excellent results on whites and colourfast.
✔️ No optical brighteners.
✔️ Low foaming.
✔️ Ideal for domestic or commercial use.
✔️ Gentle for sensitive skin.
✔️ Eco-Friendly and Readily Biodegradable.
✔️ Natural and subtle fresh linen fragrance.
✔️ Vegan, Cruelty-Free and British Made.
✔️ Free from: VOC's, chlorine bleaches, solvents, lanoline, sulphates, parabens and phosphates.
✔️ Safe for septic tanks if used as directed.
✔️ Effective in both hard and soft water.
✔️ Refills collected, cleaned and refilled.
✔️ Made in Yorkshire, UK
Washing Machine: Pour into the machine dispenser. Light load 1 TBSP (20g). Medium load 1 and a half TBSP (30g). Heavy load 2 TBSP (40g).

Hand wash: Dilute 1-2 TBSP (20g-40g) in the washbasin. Soak for 5 mins + rinse.
5-10% Oxygen Based Bleaching Agents*, Anionic Surfactants, <5% Non-Ionic Surfactants. *Denotes plant or mineral origin. **100% Natural Fragrance (ISO16128). For a detailed what's what, go to our ingredients page.
---
Share this Product
---