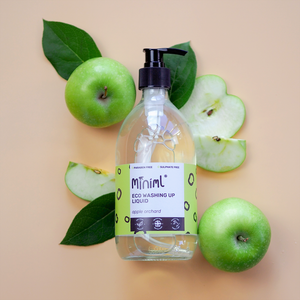 Miniml 500g refill bottle Washing up
Regular price
£2.85
£0.00
Unit price
per
Remember to RETURN the bottle for a £1.50 refund! 
Please note: Bottle pumps are available to purchase separately. Bottles come with a screw cap. 
Also ignore the photo they haven't updated with the rhubarb.
Wild Rhubarb and lemon Washing up Liquid price per 100g.
When its your turn to do the washing up its good to know this liquid is gentle on hands and the environment!
Safe to use on paintwork, rubber and metal surfaces. 
PRODUCT FEATURES
Powerful on dirt, grime and grease.
Gentle on hands.
Eco-Friendly and Readily Biodegradable.
Natural and subtle apple fragrance
Vegan, Cruelty-Free and British Made.
Free from: VOC's, chlorine bleaches, solvents, lanoline, sulphates, parabens and phosphates
Safe for septic tanks if used as directed.
Effective in both hard and soft water.
Suitable to use on paintwork, rubber and metal surfaces.
Bulk refills collected, cleaned and refilled.
Made in Yorkshire, UK
INSTRUCTIONS FOR USE
Add 10-15ml (2-3 pumps) for a bowl of washing up.
Once diluted pump over dishes and give them a good scrub.
AREAS OF USAGE 
Cutlery
Crockery and utensils
Food prep/ food storage areas
Glassware
Kitchen work surfaces
INGREDIENTS
Aqua**, <5% Anionic Surfactants*, <5% Non-Ionic Surfactants, <5% Amphoteric Surfactants*, Potassium Sorbate*, Sodium Benzoate*, Perfumes. *Denotes plant or mineral origin. **Water from The Yorkshire Moors. 
More info on what each ingredient is can me found at https://minimlrefills.co.uk/pages/ingredients
---
Share this Product
---