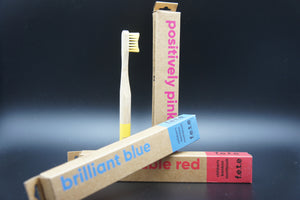 F.e.t.e Toothbrush - Kids
Regular price
£3.99
£0.00
Unit price
per
All F.e.t.e bamboo toothbrushes are biodegradable, home compostable and have recyclable bristles made from 63% plant-based materials.

We throw away 7.2 million KGs of plastic toothbrushes every year. That's 3.6 billion toothbrushes used globally each year.
The bristles in most of F.e.t.e toothbrushes are made of recyclable nylon, with 63% plant-based material. F.e.t.e 'natural' brush bristles are made with bamboo or charcoal fibres and nylon 6. Unfortunately, there are currently no 100% biodegradable plant-based bristles available in the market and F.e.t.e are not willing to use animal hair, which is the only 100% natural and biodegradable option. F.e.t.e bristles are recyclable anywhere that nylon can be recycled, so please check with your local authority or recycling centre. With your continued support of our f.e.t.e toothbrushes, they hope to have a completely biodegradable toothbrush and brush head soon. As soon as a 100% natural & biodegradable option is available, F.e.t.e will be making the switch!
The toothbrush can biodegrade and be put into the home or commercial compost but the bristles need to be pulled out and thrown away in your general waste or recycled at a facility that recycles nylon. Once the bristles have been pulled out, the handle can be put in the compost and will return back to the soil within about 6 months. You can also reuse the handle for creative purposes; they're very useful in the veg patch for marking your seedlings, for example.
---
Share this Product
---